REMARKABLE ANCIENT BEADS - UNDER CONSTRUCTION
Displayed on this page you will find a variety of what I would consider as remarkable beads. The beads displayed in the first part of this section are either unusual in form/shape/color & beauty or in the stories they can tell us.


A really rare Ancient Talisman.
A slender multicolored Mauryan eye bead!



RB 1 - 31 * 7 mm
I have to marvel at the composition layers in this bead.
In a quality bead like this nothing is accidental.
It is ancient abstract art.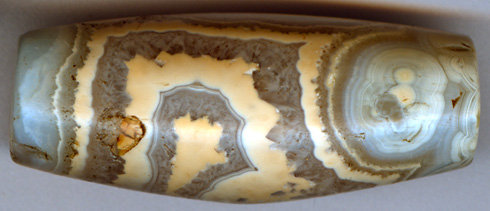 RB 2 - 38 * 15 mm
The yellow pattern is fractal. The same is true for landscapes and continents.
I see Africa or South America in the central motif. In the left eye formation
I see a person with crossed legs in Meditation. My conclusion on a meta level:
I am a fractal. It takes a fractal to know one.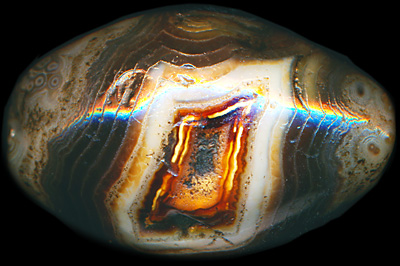 38 * 9 mm
This bead has a crack to the left.
However I am intrigued by the translucent color shine it displays.



Below a wonderful ancient translucent natural Chung DZI bead with a unique 'patina'.


It

displays dual, almost symmetrical swirling stripes. The bead has a translucent

fiery orange color,

which gives a marvellous contrast to the natural white stripes. This color has been made stronger by ancient heat treatment. I would call these beads 'art beads'.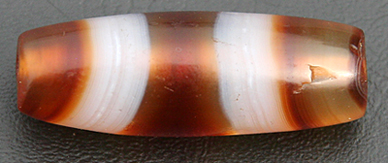 aba 4 - 31 * 11 mm

| | |
| --- | --- |
| Love these small multicolored ancient agate beads! | |