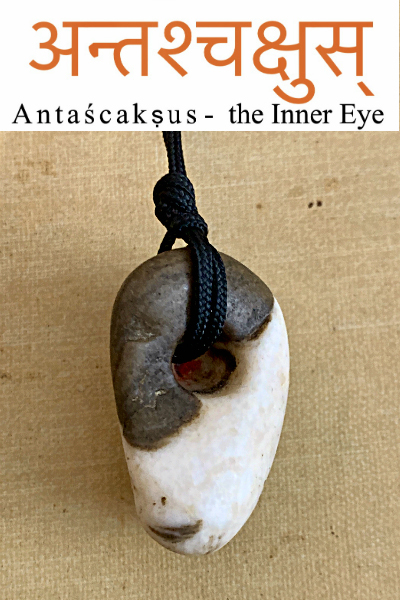 Antascaksus - the Inner Eye
What we have in front of us - one way or another - is called a "bead" in English, or also "pearl" in many other languages. Ancient beads or pearls thus by common denomination. Neither are satisfactory however to describe the talismanic, energetic, intrinsically personal and symbolic value of such an implement. "Amulet" is much more fitting, even for the smallest of them, even if most people imagine a huge golden plaque or disc hanging around the neck of an Inca Priest upon hearing the word "amulet". Habitual images are strong.

And even though beads were (also in antiquity mostly) placed on a string together with other beads/pearls/ornaments - today even the smallest of them can stand alone, be powerful
and in a way become an amulet.

Beads, natural stones, flood stones, seals, ornaments and even small neolithic tools can be carried as "pocket stones", be placed in a ring or worn on a string around neck or wrist.
In all these fashions such ancient objects can both become part of ones personality and of everyday life while not losing their unique historic value or aura. On the contrary with
gathering more and more patina they will become more beautiful and cherished over time.
The word "amulet" however comes from the Latin amuletum, which according to Gaius Plinius' historia naturalis simply describes" an object that protects a person from trouble", it is thus apotropaic. And the "evil-eye" bead bears a name connected to this thought, although it literally is an "anti-evil" or "warding-off-evil" object.
As most amulets, such as agate amulets or jasper amulets usually have an opening on two sides, due to often elaborate drilling, they become also communicators between both lateral spheres and/or the spheres above and below. Just as Neolithic Chinese Congs, they can in this view unfold cosmic transcendent virtues by channeling energy or as some believe communicative properties (such as in shamanistic or ancestral rites in many present and ancient cultures).
If any given man or women two, three or seven thousand years ago was leaning over a precious implement made from natural stone, mineral or other material - in order to shape, drill, polish and perfect it - why should we not take a moment to admire the skill and masterly craftsmanship in transforming that object into what we can see today. Trying also to see the societal, cultural or enigmatic value it had for them. Some implements could only be handled or owned by specific individuals, some were personal signifiers or clan symbols and others given with the rite of initiation or as an award. And many had a spiritual, an inner virtue imbued. In this way, the inside becomes outside and the outward manifestation is internalized – in a fluid, permeating way.
When hearing of amulets, beads and pearls most people love the "perfect and shiny".
And yes it has its place and value - but the unassuming, raw, opaque and dull can also have inherent qualities. Ancient, especially Neolithic implements are mostly often not shiny. They often have an earthy, rough, mossy but also warmer, more embracing quality. They draw you in by the way they warm up swiftly, have a velvety or rough surface (different from or similar to human skin) with patina, calcification or irregularities. Each is unique and exudes a warm, deep timbre.
The shiny implement on the other hand is mostly translucent, uplifting, often facetted and geometrically patterned. It breaks the light, the polish glows and reflects more than modern objects sometimes – especially if drilled with Ernestite (a now depleted drill material used by Indus Valley Culture craftsmen). The shiny is the clear, crispy, elegant, high timbre.
Yet, both dull and shiny, high and low come from the depth of the planet, from its mineral or organic core. Both connect different emanations of the same – a unison. No separation, but o n e .
As such this organic material by its origin vibrates or better it resonates – and it does so if one is receptive to this resonance, if one has an inner eye "antaścaksus" in Sanskrit.
And this sublime oscillation one can perceive sometimes also visually if one pays attention, to the surface pattern or the lines and markings on both dull or polished implements. Each speaks differently to one or another – it is democratic, because there is no "must" to perceive this like this or that.
Perhaps the idea that another human being thousands of years ago appreciated and wore as an amulet, one or several of these "pearls" or "beads" makes the time fabric itself resonate as well. What has been cherished then can be cherished now, in a non-authoritative simple way or in a scholarly way.
Of all the amuletic implements seen here the current favourite is shown on the above illustration. It is probably one of the most unassuming to most observers. It is made of opaque, dull grey and white stone, in an elongated drop-shape, drilled one side wider than the other. A Neolithic piece, worn around the neck probably. The special quality it holds is the diagonal bicolorated pattern – a sort of Ying and Yang found in nature, then cut shaped and drilled by a sensible human being perhaps six, seven or eight thousand years ago. Because it meant something and had a certain symbolism.
It is like a one-off piece calling, resonating from the other spectrum of time – simple but powerful, still today. One could call this the elastic extra dimensions of the space-time fabric. A phenomenon which the Inner Eye can perceive at times.
Calabi and Yau - two quantum mechanics physicists - describe the possibility of curled up multiverses on a minutely small scale. They describe the possibility of holomorphic extra dimensions of space-time.
Concentrated on one point there unfold so many aspects and facets. This is what can be discovered here too in a way, one object many facets – and all without a degree in quantum mechanics – simply with a degree of curiosity and attention!

Written by Michael